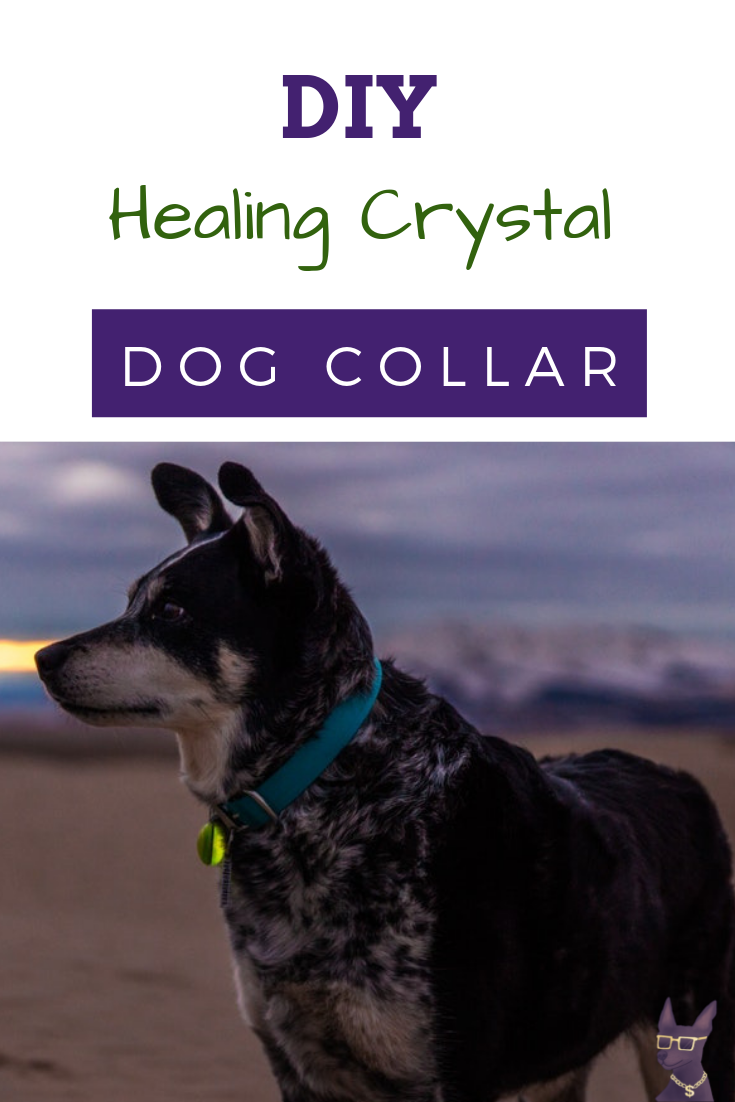 There's no better way for your dog to say, "I'm fancy" than wearing a crystal dog collar. They scream luxury and hey, they may even give your dog a little confidence boost 😉
Whether your dog is male or female, you can find a crystal dog collar that suits their personality and "style."
In this post, we include 6 great options.
We also include how to make your own DIY Crystal dog collar made from healing crystals for dogs.
There's different types of crystals to choose from. Plus—did you know that certain crystals may help your dog? We'll explain.
Crystal Dog Collars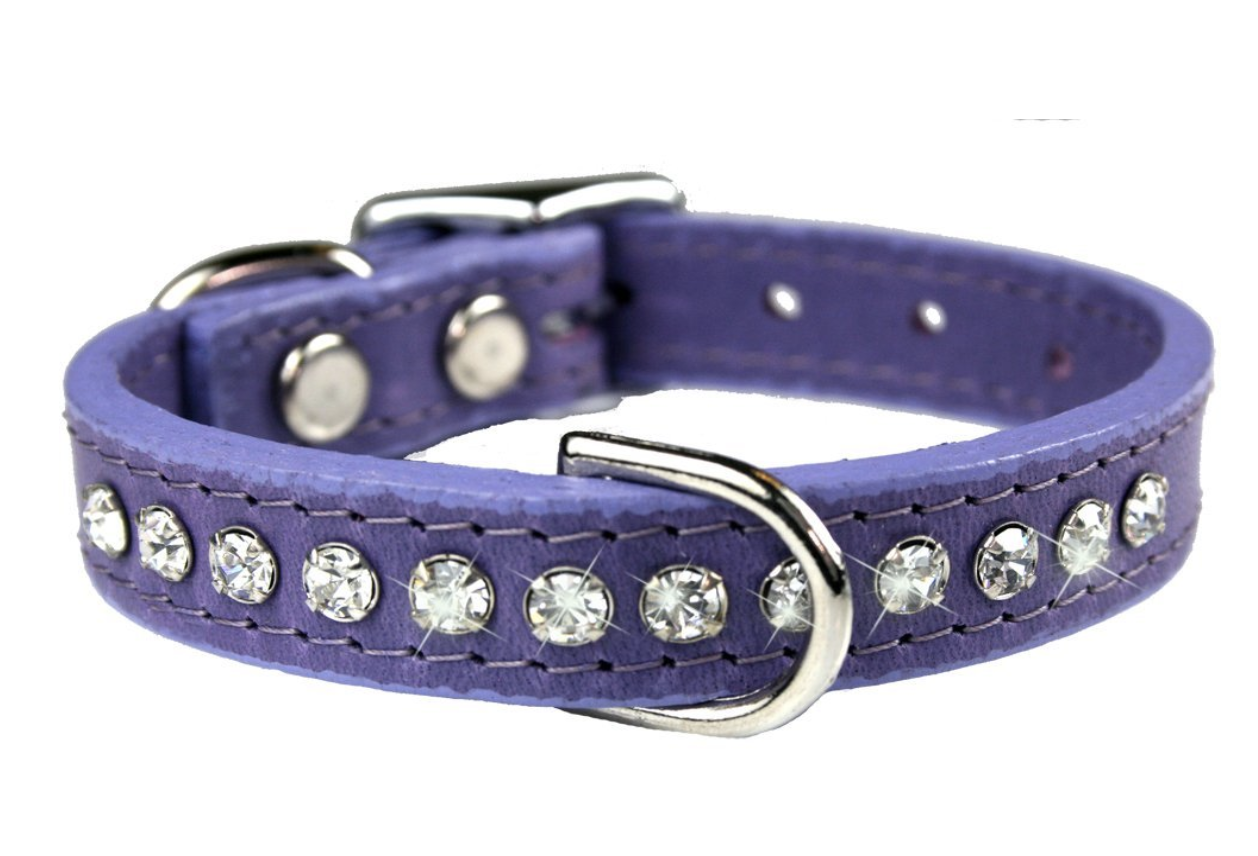 If this fits humans, I'd totally wear it! It has a pink collar but comes down to a heart pendant. It also comes in two red colors. 
Get it here.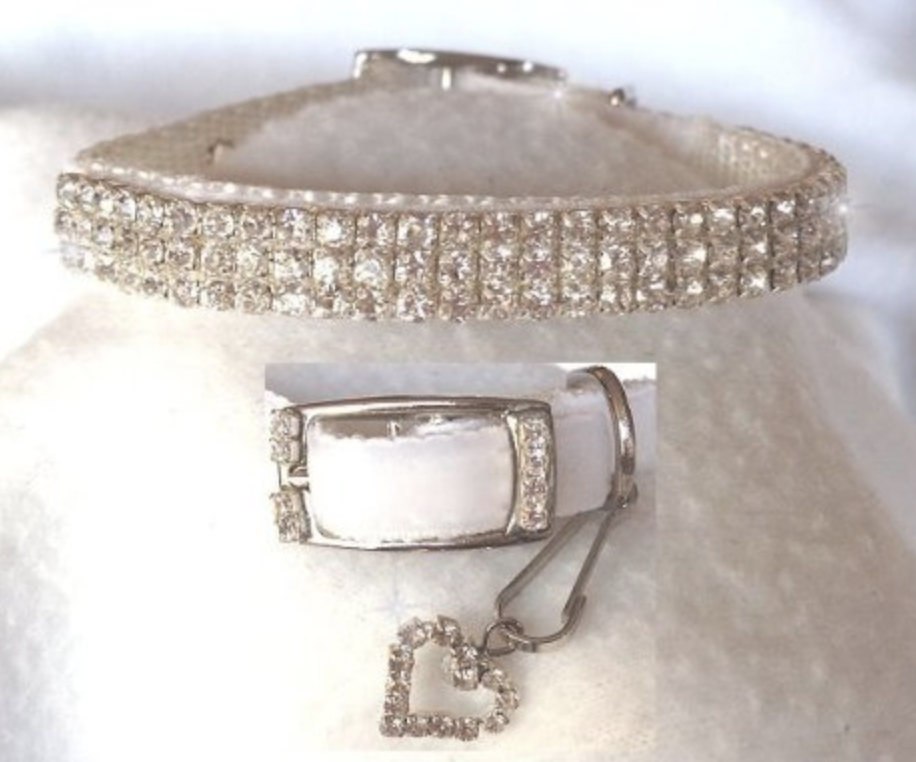 This leather dog collar is studded with rounded crystals. It comes on so many shades of each color that every pup will be able to find their favorite.
Get it here.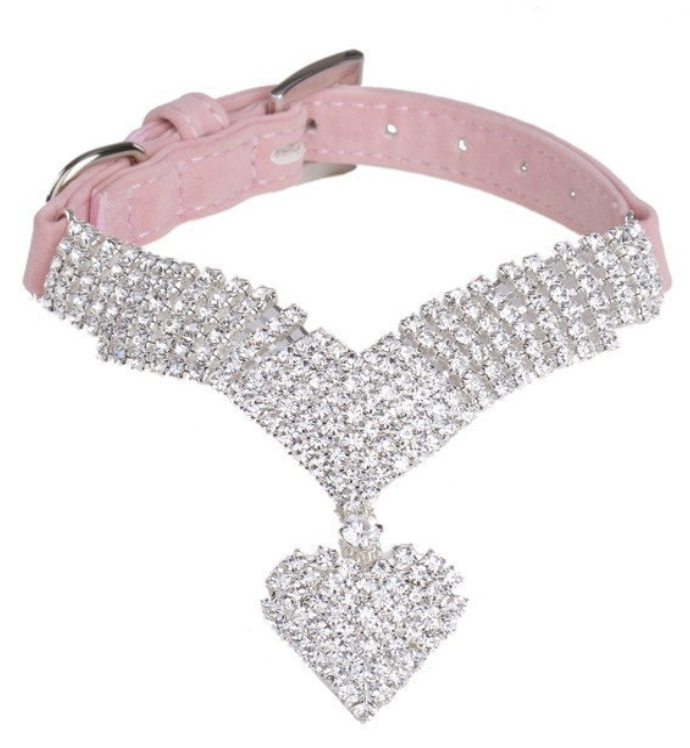 Just the name of this collar will make your dog feel like a princess. Reviewers say it's durable and very sparkly!
Get it here.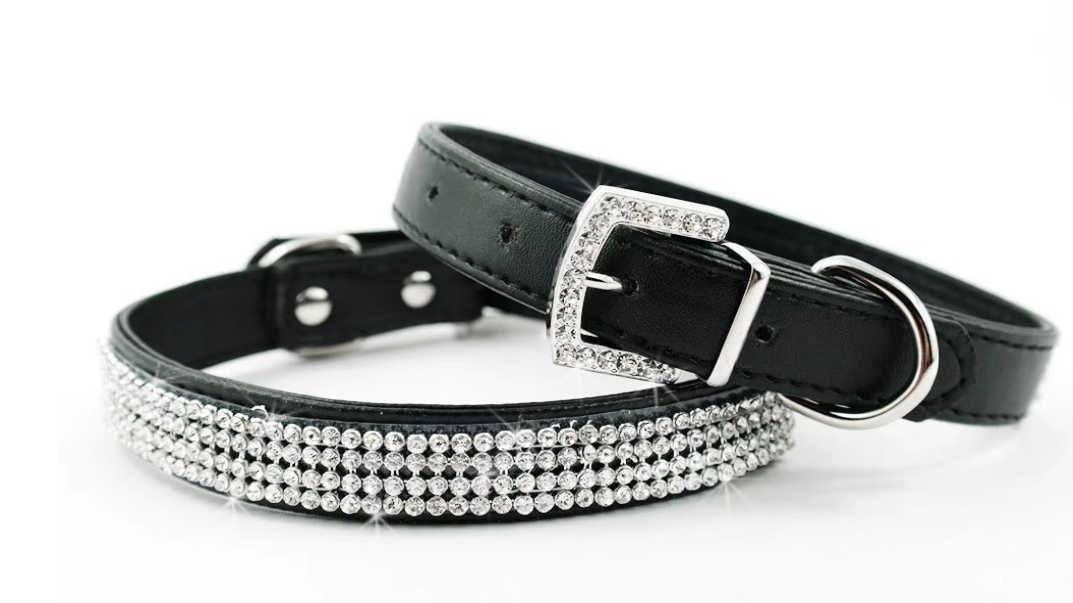 These PU leather dog collars are beautifully studded. Reviewers say the diamonds are well-secured and don't fall off. We can see the black one looking badass on your male dog.
Get it here.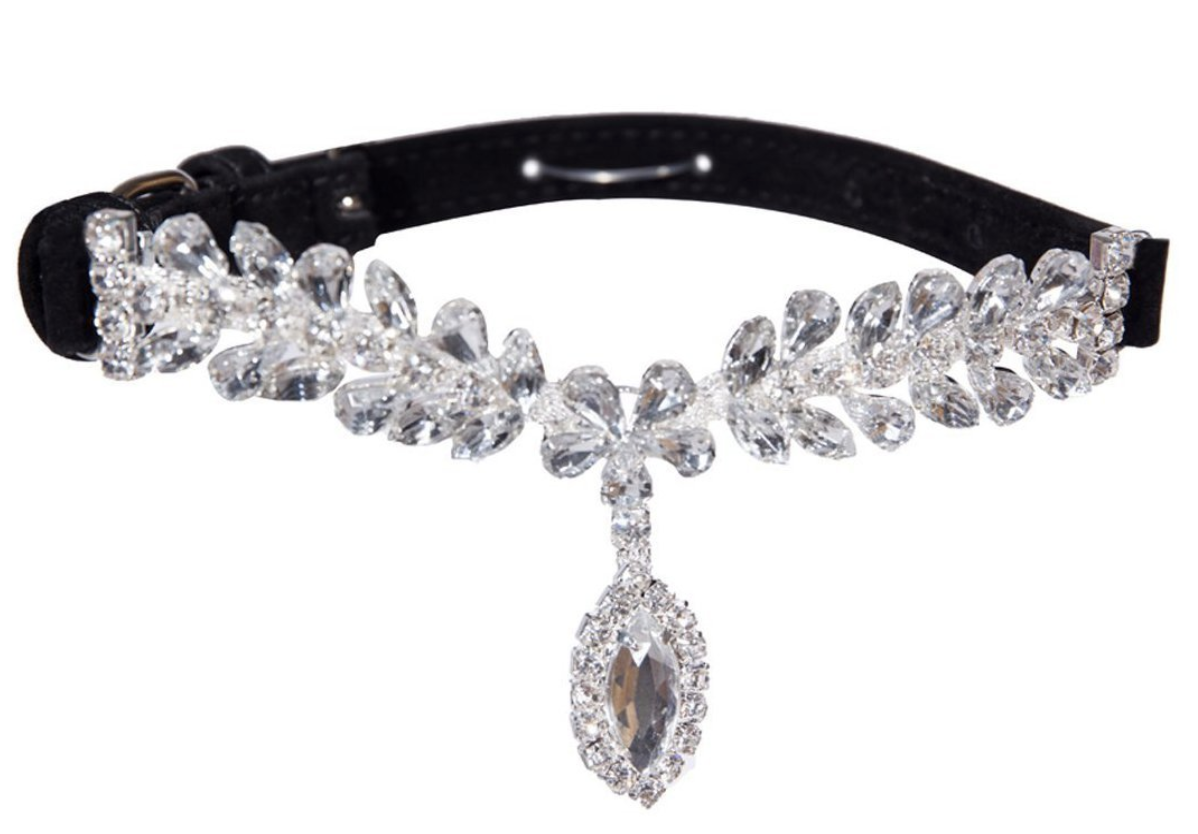 This dog collar is more like a necklace. The leather-styled fabric comes down to a leaf-gemstone design and into a diamond pendant. Simply royal. Reviewers say this diamond dog collar is just as gorgeous in person.
Get it here.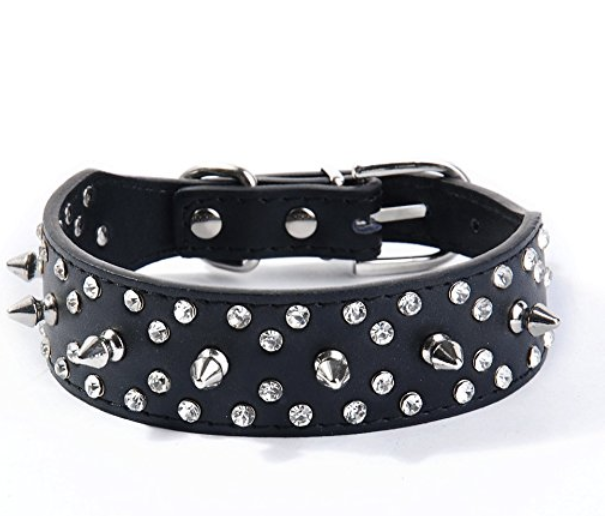 Whether you want your dog to look beautiful or badass, this collar will suit your furry friend. The PU leather is studded with spikes and diamonds. It comes in a clean white, a rebel black, princess pink or scarlett red.
Get it here.
DIY Dog Collar Made From Healing Crystals For Dogs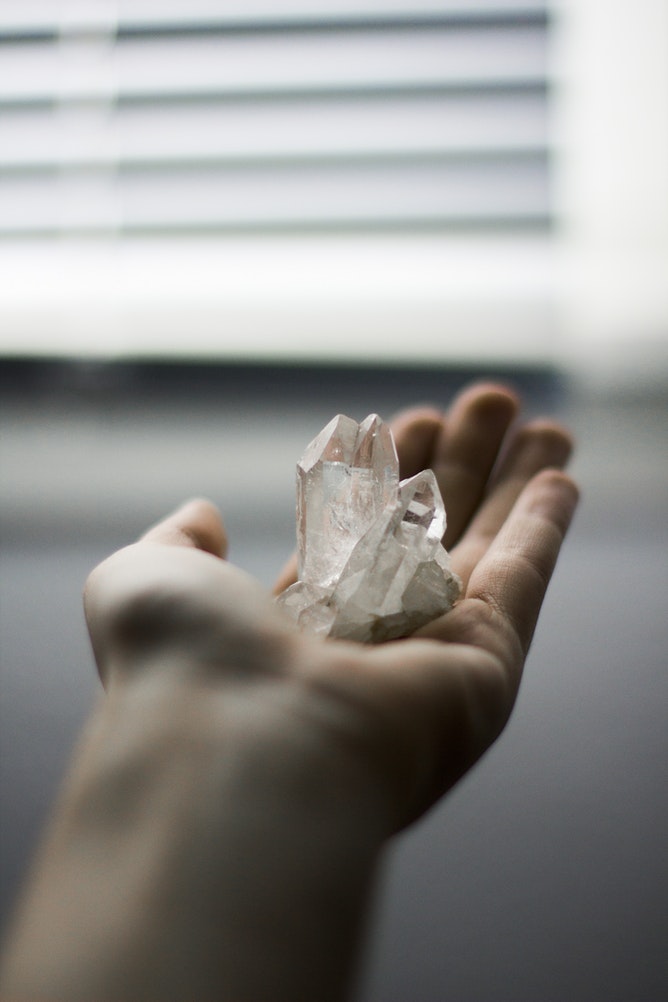 If you want an original dog collar, consider making one yourself. You can use natural crystals, which some people believe have healing powers. It's said they can aid your dog with certain physical or emotional problems. While it can't replace vet care, it can't hurt to try.
Here's how.
What you'll need:
How to:
Choose tumbled healing crystals that are specific to your dog needs. Make sure they'll fit within the width of the blank collar. Using a strong glue like E6000, glue the crystals on the collar. If you have a few small ones, glue them in a studded pattern. If you have medium sized ones, consider only gluing a few in visible areas, such as the top.
Healing Crystals for Dogs:
Some people believe that gemstones have natural properties that can help heal certain areas of life. Here are some crystals that may help your dog. If you want, you can combine a few to glue on your dog collar.
Birthstone of February
Known to ease, relax and destress
May help with separation anxiety or anxious dogs
May help with pain
May alms nerves
Good "general" healer
Known to decrease negative energy
May help improve communication with your dog
May strengthen immune system
Said to amplify the power of other crystals
Good "general healer"
Said to be detoxifying
Known to provide protection
May be calming
May help digestive issues
May help respiratory issues
May help rescued dogs. That's because it's known as a love and compassion stone.
May help dogs be more accepting of change (ex. New cat or baby)
May help heal injuries and wounds
May help stress
May improve mood
May help courage and confidence
Said to help with shy or timid dogs